Our Academy uniform reflects the Academy's long-standing tradition for academic excellence and high standards of which we are so proud. Academy uniform plays a vital role in contributing to the ethos of the Academy and setting the appropriate tone. We believe that by encouraging our students to dress smartly for school, we are building on the standards, discipline and professionalism that the young people we work with, will require in the world of work.
By wearing the Academy uniform, students at Waltham Toll Bar Academy demonstrate visually that they belong to the Academy community. Our uniform is a symbol of equality, identity and affiliation to the Academy. Smartness and high standards of appearance are expected at all times, both inside and outside of the Academy premises.
**During the Covid 19 pandemic, we relaxed some our rules on uniform, including allowing pupils temporarily to wear hoodies and keep coats and hats on inside the building, and temporarily allowed warmer black trousers, as we had to keep the windows in the building open. We have now returned to our uniform habits and policy that were in place pre-covid pandemic. We are also seeking to simplify and reduce the uniform requirements for pupils and from September 2023 the blouse and scarf option will be removed from our uniform policy. Pupils wearing the blouse and scarf may continue to do so until the end of the summer term 2023. Stretchy (non-tailored) trousers are not part of the uniform policy.
Limiting the cost of Academy uniform
Our Academy Uniform Policy can be found here: Academy uniform policy
In developing our uniform policy, we have taken into account factors such as:
The socio-economic status of our Academy community
Pupil demographics
The uniform of neighbouring schools and academies in our Trust
The views of our Academy community.
Our Academy has a duty to make sure that the uniform we require is affordable, in line with statutory guidance from the Department for Education on the cost of school uniform (www.gov.uk/government/publications/cost-of-school-uniforms/cost-of-school-uniforms).
We understand that items with distinctive characteristics (such as our branded items, or items that have to have an Academy logo or a unique fabric/colour/design) cannot be purchased from a wide range of retailers and that requiring many such items limits parents' ability to 'shop around' for a low price.
We make sure our uniform:
Is available at a reasonable cost
Provides the best value for money for parents/carers.
Uniform Details and where to purchase:
To maintain quality, standards and value for money for families, items in bold text marked with * are only available from our approved uniform suppliers: Uniform Direct.56 Victoria Street, Grimsby. DN31 1BL Tel: 01472 347800 (www.uniform-direct.com).
We strongly recommend only buying our branded uniform items from this supplier. Disclaimer: If you choose to purchase our branded uniform from other companies, their products may not meet our official uniform standards and may not be of the quality our partners provide.
Compulsory Uniform (MUST have and wear): Bold and * to be purchased from our official supplier. Generic items are widely available.
BLACK blazer with Academy badge* Purchased from our official supplier
Academy tie* (RED tie Years 7/8, BLUE tie Y9/10/11) Purchased from our official supplier
Academy skirt* (tailored) / BLACK trousers (tailored)
Generic WHITE shirt Years 7/8, WHITE shirt or WHITE blouse with BLUE Academy scarf* Years 9/10/11 (blouse and scarf will not be part of uniform for September 2023)
Generic sensible plain BLACK shoes (not trainers, canvas or boots)
Generic plain BLACK or WHITE socks (no ribbons/bows) which cover the ankle / BLACK tights.
Generic Academy bag which is big enough to hold an A4 file without it being folded. as well as school books, essential learning equipment (listed below) and PE kit (clutch/accessory/handbags not permitted)
Optional/Seasonal Uniform(can choose to wear):
Plain BLACK V neck jumper with no logos (optional to be worn under blazer, not instead of)
Plain coat dependent on weather.
Academy skirt* Purchased from our official supplier. This is a form skirt with zip fastening, worn no more than 2" above the knee. Stretch tube-style skirts are not acceptable
*Any hair accessories (hairbands, clips or bobbles) must be plain BLACK.
Compulsory PE Kit: (MUST have and wear)
NAVY/SKY BLUE reversible capped rugby shirt. *Purchased from our official supplier
NAVY/SKY BLUE polo shirt with Academy logo. *Purchased from our official supplier
NAVY/SKY BLUE football shorts/skort with Academy logo. *Purchased from our official supplier
NAVY/SKYBLUE sports socks with Academy logo. *Purchased from our official supplier
Football boots (required for participation in football and rugby).
Training shoes.
Shin pads.
Optional/seasonal PE kit:
NAVY tracksuit bottoms
Swimming costume and towel for showers as required
BLACK/NAVY top base layer to be worn underneath the kit
BLACK/NAVY legging base layer to be worn underneath the kit
We expect pupils to wear our uniform correctly.
Wear it correctly means:
Top button on shirt is fastened. Shirt is tucked in
Tie all the way up to the collar. Tie is down to the waist
Skirt if worn, at knee length - not rolled over.
Appropriate footwear for the Academy Day:
Shoes should sensible plain black.
Shoes must be able to be polished. Suede leather is not permitted. There must be no coloured stitching or coloured flashes visible on the shoe. No boots of any description are permitted. Heels up to 3cm maximum are allowed. No platforms, sandals, flip flops, sling backs or fashion shoes with different coloured bows or buckle are allowed, this includes the 'Melissa' Vivienne Westwood shoes.
Trainers or trainer style shoes are not acceptable this includes: Nike, Adidas, Puma, Vans, Converse, however, this list is not exhaustive as the above are examples. Canvas pumps will not be acceptable as school shoes or for use in Physical Education lessons.
In certain exceptional circumstances, and only with a medical letter from a consultant or medical professional the Principal may permit shoes that are suitable for certain medical conditions.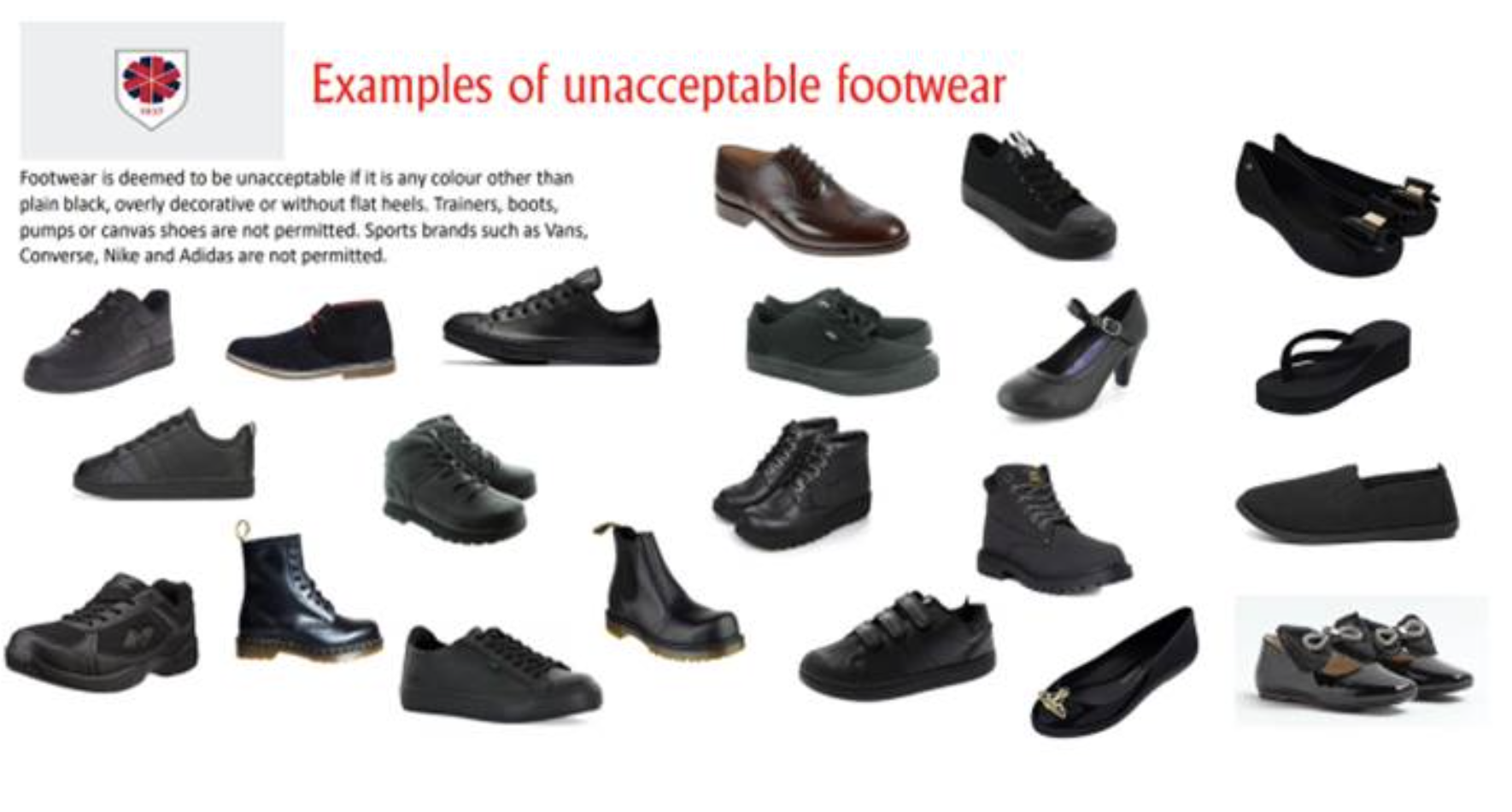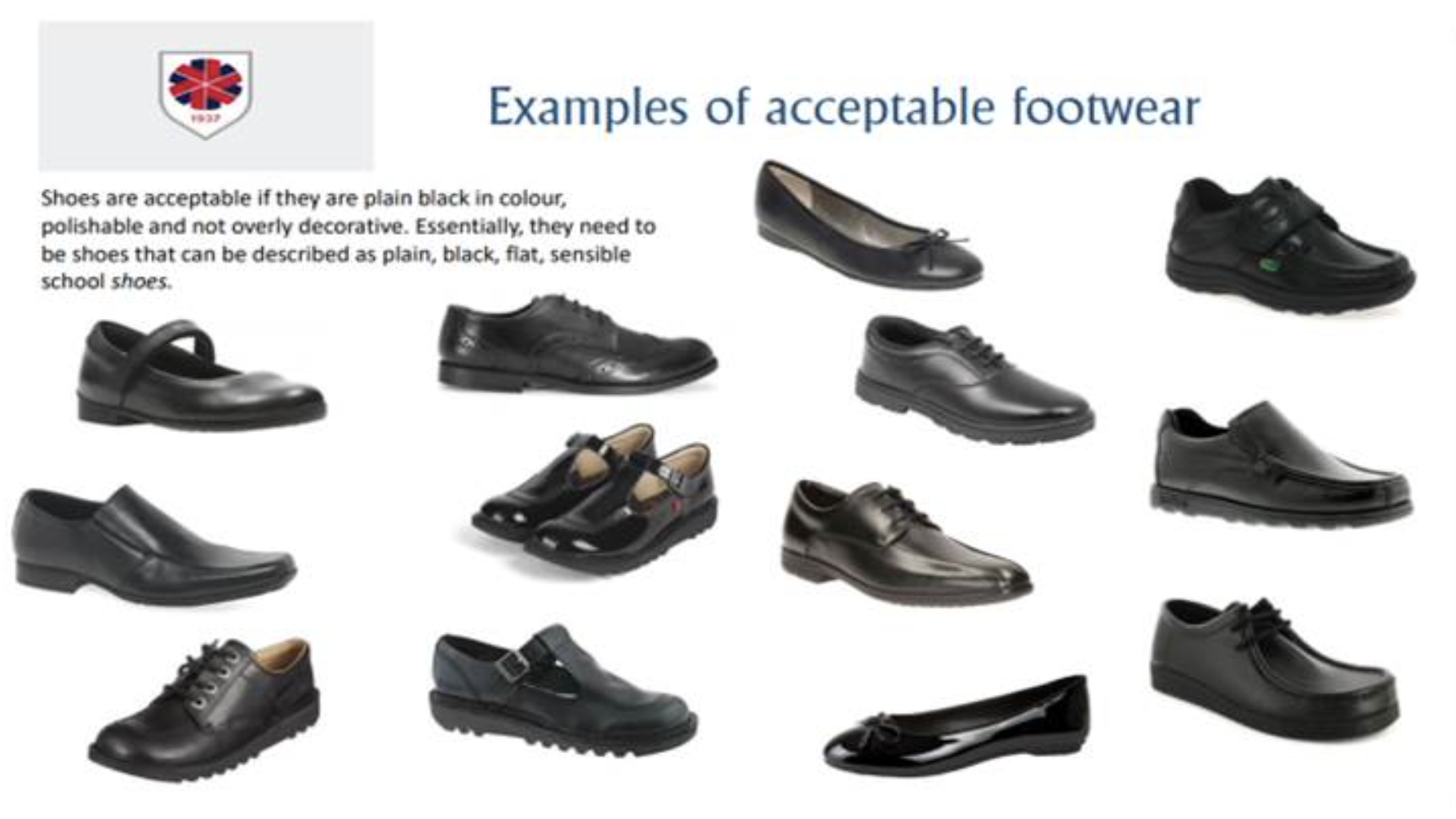 Essential Equipment for Learning
Students must come to school every day with:
Planner. 1 pencil case including: 2 pens, 1 pencil, 1 ruler, 1 eraser, 1 calculator, highlighter, gluestick, 1 suitable, personal reading book (either fiction or non-fiction which is age appropriate).
Generic school bag (rucksack style to go over both shoulders) which is big enough to hold an A4 file without it being folded. as well as school books and PE kit (clutch/accessory/handbags not permitted).
Hair:
Hair accessories must be only plain black in colour.
Hair bands should be plain in their appearance - we do not accept bandanas being worn.
The Academy will not accept extreme haircuts, mohawk, razored, no guard lines or no guard.
Students are not permitted to have extreme hair colours; colour change should appear natural.
The Academy reserves the right to internally suspend pupils with extreme hairstyles.
Shoulder length hair should be tied back for all practical lessons for health and safety.
Make-up, nails, piercings, jewellery:
False eyelashes, tattoo eyebrows, fake tan, coloured nail varnish and acrylic/false nails are not permitted.
As a result of listening to student feedback, students in Year 11 are permitted to wear discreet make-up. This is not permitted in any other year group, where make-up is not allowed.
There may be exceptions to the above in extreme circumstances, at the Principal's discretion and in consultation with parents, eg, a student may be permitted to cover heavy scarring/skin damage/be undergoing radiotherapy/chemotherapy.
Bracelets are not permitted.
Earrings are permitted, but they must be 1 singular or 1 pair of plain silver/gold studs and must be worn in the earlobe.
No other piercings (tongue/body/eyebrow/lip/nose) may be worn.
Earrings and other piercings covered by plasters are also not acceptable.

Students may wear a wristwatch. Smart watches are permitted but they must be used responsibly, they are not to be used as a communication device.
Students may also wear a cross or other symbol of faith for religious reasons but it must not be visible.
No badges are to be worn other than those issued by the Academy and one charity badge.
Fake tan is not permitted
Mobile phones, safeguarding and professional standards:
Mobile phone/earphones/ear pods are not permitted in the Academy. They should not be used, seen or heard during the day.
Parents and carers wishing to speak to, or get messages to their child should contact reception.
Hats, neck and head coverings:
Warm hats, gloves and snoods can be brought into school in inclement weather, but must not be worn inside Academy buildings please.
Balaclavas, baseball caps and masks are not permitted.
The wearing of a head scarf or hijab, in plain black/navy (no patterns or multi-colored), for religious reasons, is permitted.
Garments covering the face or whole body, for example the abaya and niqab are not permitted.
Hoodies:
Hoodies are not part of our Academy uniform and must not be worn with our uniform when on Academy premises.
The Academy uniform includes an optional plain black v neck jumper and or plain coat.
Uniform assistance:
The Academy supports vulnerable families in meeting the costs of uniforms. To claim Academy uniform assistance, parents should normally be eligible for FSM. Families should contact our Academy office to discuss this on 01472 500505 or by emailing enquiries@tollbaracademy.co.uk to discuss our criteria for support.
Uniform Price Guide below and Link to Official Uniform provider: https://walthamtollbaracademy.co.uk/tollbar/media/images/uniform-direct-online-in-store-parents-guide-2022.pdf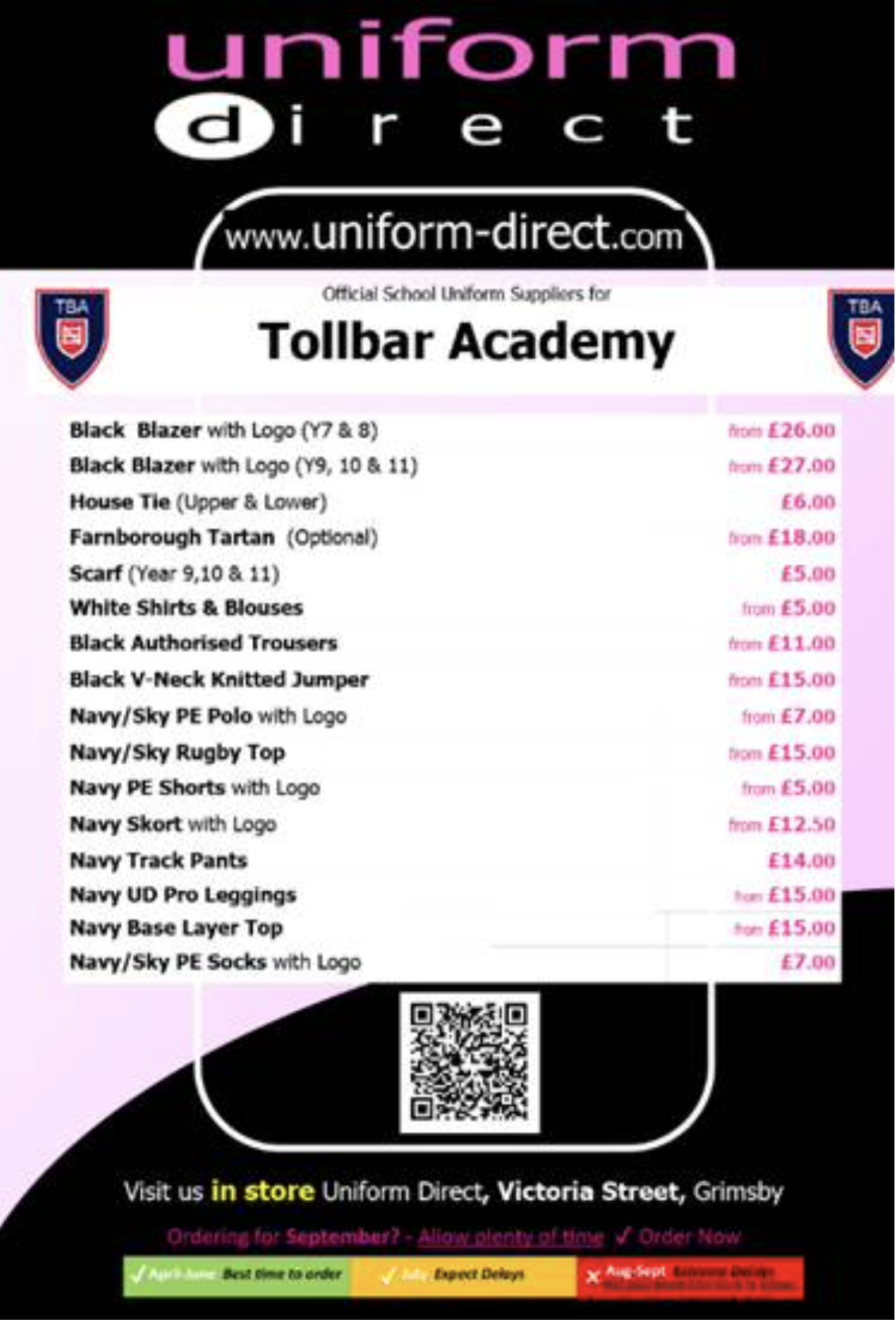 Advice and guidance:
If a parent wishes to seek advice and guidance on our uniform policy, uniform standards or requires assistance in replacing items please contact: 01472 500505 or email enquiries@tollbaracademy.co.uk.
---